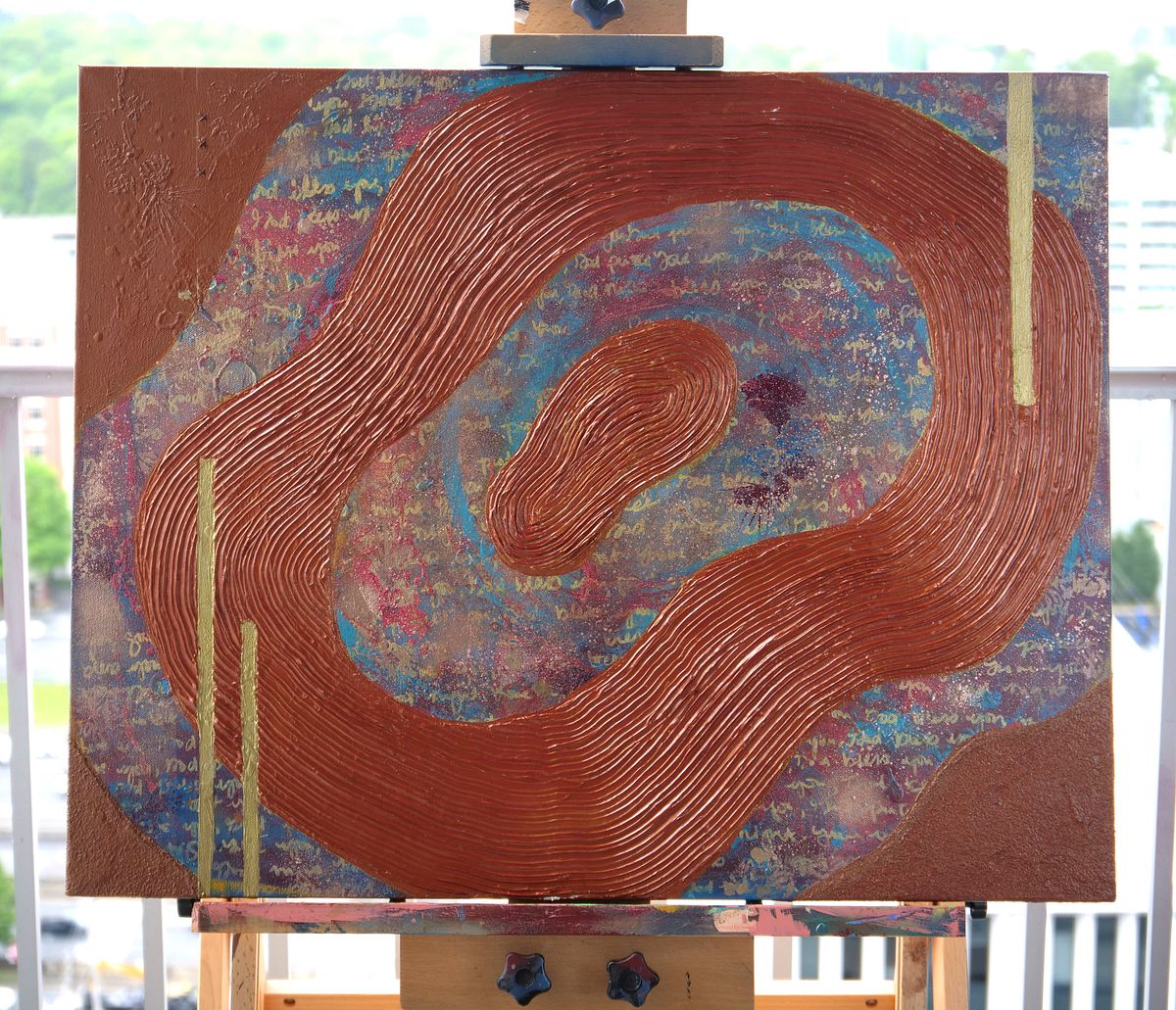 I've waited a long time to post this piece because it's very personal to me in a familial way, and I wanted to find the right way to express what it's about in words. This will be kind of long, cause this piece is like that.
I'd had this idea for several years and had a few iterations in my sketchbook, and I ultimately found abstraction to be the best way to combine the different aspects of the story I wanted to tell. I wanted there to be a representation of earth/dirt and flowers, elements that evoke the idea of rigidity and toughness but also malleability and flow, ancestral connection/alignment, power, and womanhood. The piece is generally about generational single motherhood, specifically as it affects black women. But the words in the background ("I love you, God protect you, God bless you, good night"), the stitching, and some other small elements that aren't super visible in the final piece are specific to me, my family, and our timeline.
As I age further into womanhood, I become more aware of the ways in which the absence of a father has impacted the ways that I move, things I know (or don't know), decisions I have made, even friendships I have been able to start and maintain. This prompted me to think further back, on how my mother was raised by a single mother as well and brought up in a family of all sisters, and how this line of women cultivated this kind of unfiltered, unfettered black femininity free of everyday influence from men for literal generations. It feels almost like super-womanhood to me, and it is a part of my identity that I have grown to appreciate fully and would never change. The sad flipside is that I also recognize that all the ways that this fills me up probably don't feel the same to my brother– the first male in that line of generational single mothers. I also sat fully with the feeling of knowing that our fathers have always been alive, well, and actively choosing not to parent us. I was thinking about all of those things in making this piece, and finding ways to incorporate all those high and low thoughts and feelings.
Truthfully, over the past few months, this piece has become important to me in several other ways, as well. This is the first piece I have had the honor of showing in a gallery, as part of the Rebirth show which continues to be one of the most meaningful and transformative art experiences I have had. I worked with a lot of different materials and learned a lot about manipulating them alone and together for a cohesive piece. I learned a lot about creating and showing fine art in a professional gallery space, and how different it is from generally painting pictures (not sure how to word that more eloquently, but hopefully you feel me). This piece gave me the opportunity and courage to do my first artist talk, and prove to myself that I can complete an artist talk without projectile vomiting. Getting to share my "why" behind the art and hearing from people in the room that I changed how they look at/think about abstract art is a feeling I will never, ever forget, even if I do many more artist talks.
With every abstract piece I paint, I still remember the black volunteer docent who approached me at the Hirshhorn Museum as I was looking at a de Kooning piece and talked to me at length about abstraction, representation, meaningful storytelling with mark-making, and intention. Her blackness was important because she expressed how happy she was to see me spending time with more abstract pieces, how meaningful they can be, and how there aren't many black abstract artists represented in the museum. She sent me off with helpful literature and everything. I was just starting to paint more at the time (around 2009-10) and while I wasn't immediately motivated to make abstract pieces, as I grew in my artistry, her words/lesson were always there and abstract art started to feel like the most efficient way for me to express stories and emotions that I couldn't adequately or comfortably put into words. As a self-taught artist, I am always learning more about composition and ways to improve, and love the idea of telling black stories through abstract expression.